AAT Level 2 Certificate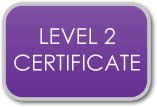 Course description
This course is an ideal starting point for a school-leaver, someone returning to the workplace, or someone who has not studied for a while. Students do not need to be working in an accounts role to be able to work towards this qualification.
Course structure
This is a part time course, delivered as either one day per week (5 hours) or one evening per week (3 hours). The duration of the course is dependent upon the method of study, however it is anticipated to last between 9 and 12 months.
The course covers:
Principles of double entry bookkeeping and preparing an initial trial balance
Basic costing
Working effectively in accounting and finance
Computerised accounts (using Sage)
The AAT Level 2 Certificate in Accounting course can be studied various ways including:
Part time classroom course
Flexible learning (a combination of a reduced level of classroom learning and focus days)
Onsite at your place of work if there are a number of people participating in the course. Terms and conditions apply.
Assessment
Each unit is assessed by an AAT computer based test or assessment which are held throughout the duration of your course at Wise Owl Training Limited premises.
Entry requirements
No previous qualifications or experience is required to join the AAT Level 2 course however students do need a basic level of literacy and numeracy. Students are strongly advised to consider completing the AAT Access course before starting the Level 2 qualification as this provides a taster to the AAT suite of qualifications to ensure you are on the right course of study.
Membership requirements:
Please note to work towards AAT qualifications, individuals are required to become student members with the AAT, for which there are membership criteria. Full details of this will be available to you as part of the course information.
Cost and next start date: Contact us for pricing details. Courses start throughout the year. Please contact us for the next available date.